At Autopista del Sol we are proud to have ISO 39001 certification, an assurance of excellence in road traffic safety management, both internally vis-à-vis our employees and externally vis-à-vis with our users.
Autopista del Sol, the first highway in Spain to start the works to adapt its tunnels to RD 635/2006
These adaptation works will imply a significant increase and improvement of the safety equipment of our tunnels, which will fulfill with the European directive 2004/54/CE, thus ensuring a faster and more efficient management of the action in case of incidents and/or traffic accidents.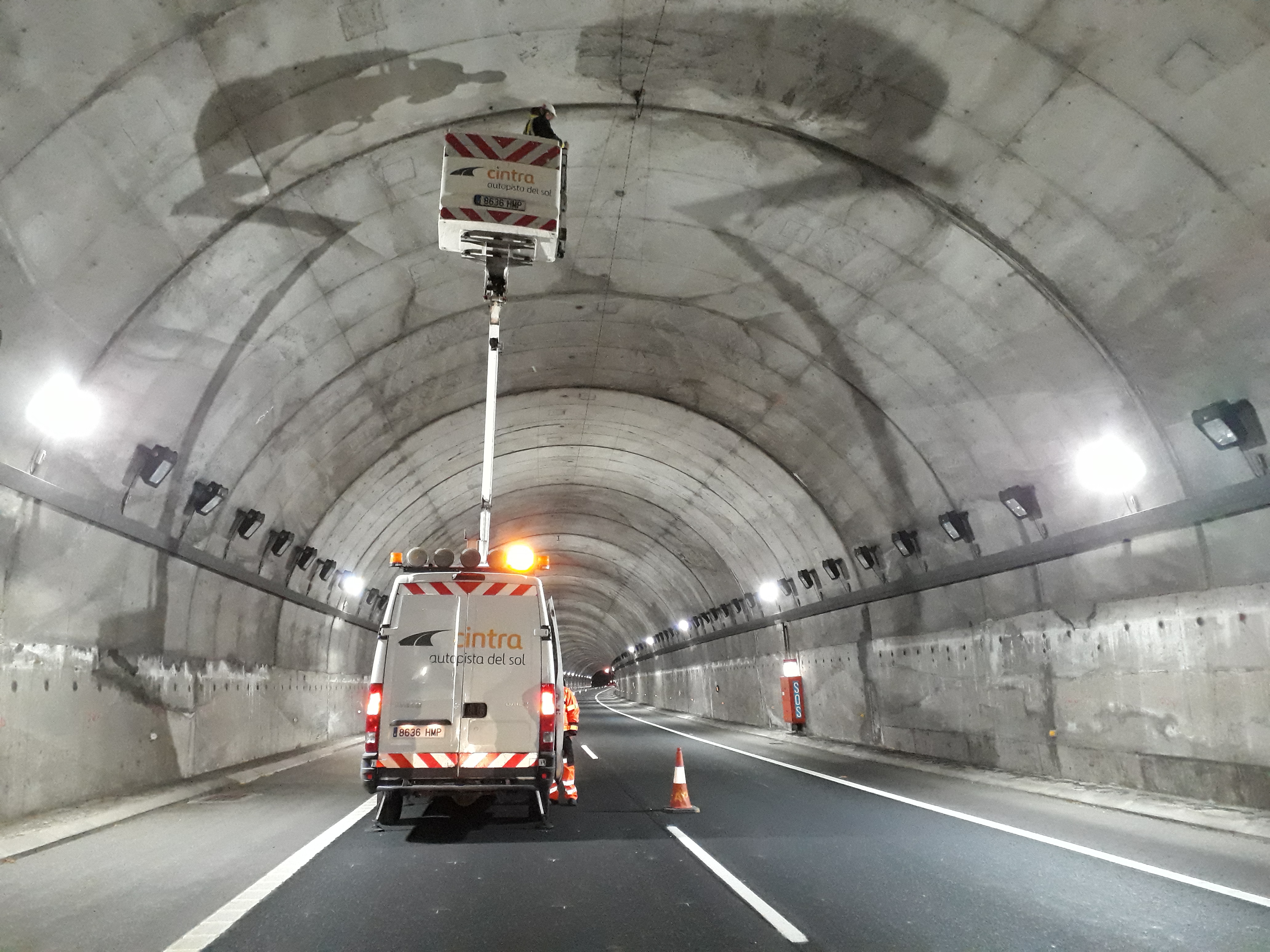 There are 10 tunnels in Autopista del Sol that will be adapted to the security requirements established by the RD635 / 2006 mentioned above:
Tunnels in Málaga- Estepona section:
– Montemayor Tunnel
– La Quinta Tunnel
– Rio Verde Tunnel
– Nagüeles Tunnel
– Santa María I Tunnel
–  Calahonda Tunnel
Tunnels in Estepona-Guadiaro section:
– Estepona Tunnel
– Corominas Tunnel
– Santa María II Tunnel
– Casares Tunnel
The project scope is:
New fire-resistant electrical installation to ensure the critical operation systems in case of fire.
Reinforcement of the installation of ventilation systems to improve tunnel conditions in a way that let us to act in case of high concentration of pollutants or fire.
Installation of more sensors to make measurements of polluting gases concentrations (CO2 and NO), opacity and air speed both inside and outside the tunnel to optimize ventilation strategies.
Improvement of linear fire detection systems
Installation of the public address system to emit messages to users in case of incidents
Implementation of Automatic Incident Detection (AID) through the CCTV cameras of the tunnels
Installation of new variable signage panels to warn users of any incident
Improvement of the technology of SOS poles
We work for your safety every day.
Bet for safety in your travels!!
SUMMER DRIVING
On the Costa del Sol we have more than 320 sunny days per year, so here are some brief tips for driving with sun:
If your vehicle has been parked in the sun, ventilate it for a few minutes before setting off.
If it's very hot, turn on the air conditioning.
In direct sun, use sunglasses. That will ensure you aren't dazzled.
Make sure to stay hydrated. On long trips, always bring water or soft drinks. Ideally you should stop every 90 minutes to drink and stretch your legs.
Don't leave a pet alone inside the car, even if you are just stopping for a coffee.
DRIVING IN ADVERSE WEATHER CONDITIONS
In adverse weather conditions, such as wind, hail or rain:
Slow down
Increase the safe distance from the vehicle in front, as needed
Brake gently
Pay close attention to the road and be aware of curves, etc.
Use dipped headlights: see and be seen
Do not stop your vehicle in the road; in the event of an emergency, pull over onto the shoulder, and be aware that there are service areas and toll plazas where you can stop
Ausol road safety sheets: